Emilia bought Biscuit WordPress theme by Pankogut. She wanted to get her food blog up quickly so she can start blogging, but on a budget. We agreed that she will take care of site contents including branding, logo, blog posts, bio and so on, and I will take care of the technical side of WordPress and customize her site to look and function exactly like the demo. Within 24 hours, her site is up with basic pages – home, about, contact and blog and with her brand.
Emilia likes her new site 🙂

And to help her proceed with her new journey, I also created a Google Doc file includes:
instructions as where to make some aesthetic adjustments in the theme in WordPress,
recommended plugins for food bloggers,
best practice tips in blogging,
useful resources for food bloggers and
next actionable steps she needs to take for her blog
Hope this will help her with her new blogging adventure.
It seems that she appreciated it 🙂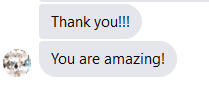 Visit: A Garnished Plate